Hotel Rio Bianco - Panchià
Hotel Rio Bianco is a historic and charming hotel located in Panchià, in a quiet mountain village in the center of the Val di Fiemme. The Hotel is only 6 km from Cavalese (Alpe Cermis) and from Predazzo (Latemar / Pampeago Ski Center). The hotel is rich in history and its architecture preserves the charm and beauty of its origins. The series of rooms and staircases, the decorations on the walls, the paintings and the vintage photos, and the handicraft objects give the pleasant sensation of feeling immersed in the atmosphere and culture of the place. The Hotel is ideal for families and for people who love nature, sport and tranquility. The Delugan family will welcome you to make you spend a pleasant stay in a comfortable and familiar environment. The kitchen offers two restaurants: an internal restaurant reserved for hotel guests and an a la carte restaurant - "Aquila Nera" - with a typical tavern. The hotel offers a plurality of solutions for all budget and space requirements: it has 25 "unique" rooms, each one different in size, furnishings and year of renovation, with or without balcony. B&B treatment, half board or full board.
Restoranti i Hotel Rio Bianco
The restaurant reserved for guests of the hotel with half board offers a classic and traditional menu with homemade dishes using the products of our territory, with three choices of first courses, three second courses, a large buffet of vegetables and snacks, fruit or dessert. Alternatively, Hotel guests can enjoy the "Aquila Nera" restaurant with à la carte menu, where the cuisine has the flavor of traditions handed down for generations. "Aquila Nera" has a culinary proposal designed for lovers of good food, in which simplicity, authenticity and creativity are the perfect ingredients to bring to the table dishes ranging from rich Italian gastronomy to the most renowned regional specialties. In an environment rich in history and atmosphere, top quality products come together in a perfect mix of aromas aimed at amazing and pampering guests with tasty and wholesome dishes that perfectly combine with our warm hospitality offer.
Dhomat e Hotel Rio Bianco
Un'esperienza unica all'insegna del relax, una coccola tutta da scoprire
junior suite, camere appena ristrutturate in stile baita con piccola spa privata costituita da sauna ad infrarossi ed idromassaggio privati in camera, accappatoi, ciabattine ed una bottiglia di bollicine inclusa nel prezzo, tutto il necessario per una sosta indimenticabile nel cuore della Val di Fiemme
A double bed, to be lulled by history.
Solutions in line with the hotel's offer, for those who want a comfortable and particularly welcoming room. Some recently renovated, others in typical style with wood paneling, most with balcony or terrace. They represent the right compromise between quality and price.
Vendndodhja e Hotel Rio Bianco
Panchià (Italia) - Via Nazionale, 42 , Panchià
Për të arritur Hotel Rio Bianco
CAR: Panchià can be easily reached by car either from the north or south, along the Brenner SS12 or the motorway (exit Egna / Ora -distant 30 km-, Trento north or S. Michele) and then from Egna / Ora continue in the direction of Cavalese along the SS48 of the Dolomites or from Lavis along the SS612 of the Val di Cembra. Park in the convenient parking lot in front of the hotel, on the other side of the street. PUBLIC TRANSPORT: from the railway station of Trento or, even better, from that of Egna / Ora there are many public transport lines to reach Panchià. AIRPLANE: the nearest airports are the Catullo at Verona (165 km), Marco Polo at Venezia (180 km), that of Milan-Linate (301 km) and the new airport of Bolzano (50 km).
Kush amministron Hotel Rio Bianco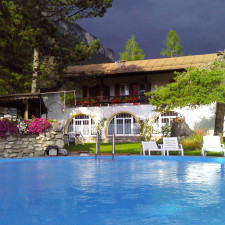 The history of the Rio Bianco starts from the dream of great-grandfather Francesco. Just back from the Tyrol with the miners of the Val di Fiemme, in 1886 he managed to obtain the much desired license to open the first Panchià post office. The carriages made the change of horses and travelers could rest and refresh. With the same passion of the time, Carla and Stefania will welcome you in the most ancient hotel of the Valley still in activity. We will help you discover the wonders of the Valle di Fiemme and the Dolomites. We will take care of you and of your relaxation to make you live an unforgettable experience. Do not hesitate to contact us for any information, see you soon. Carla and Stefania